The iPhone and iPad will read out loud to you.
This is more than a party trick; it's very handy to let your iPhone or iPad read a long email to you while you pour yourself a bowl of Captain Crunch cereal (for example). It's also sort of fun, and perhaps a learning tool, to highlight a page in an iBooks book and have your iPhone or iPad read that page to you. It's all very easy though you have to be on iOS 5 or higher (Mom, you are).
Here's how you do it. (Screen shots are from an iPhone but it's almost exactly the same on the iPad.)
First, go to the
Settings
. Tap
General
, then
Accessibility
, then
Speak Selection
.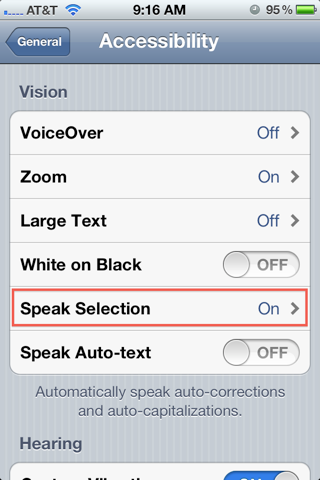 Speak Selection
is off by default. You'll be turning it on here. Set the Speaking Rate closer to the turtle and further from the rabbit. It's hard to understand what's being said if it's said too rapidly. When you drag the Speaking Rate knob your device will speak some standard text to you, giving you a good idea of how things will sound.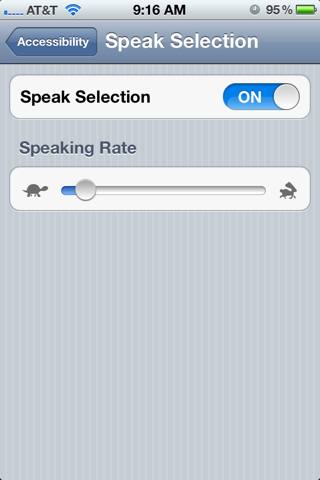 Now find something that you'd like to have read out loud. Here, I've gone to the Mail app and found an email that is pretty long. Tap and hold anywhere in the text to create an initial selection, then tap
Select All
.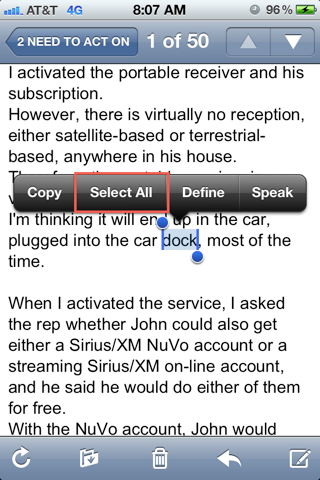 Remember, the reading feature is called "Speak Selection" so you could drag the selection to include any or all of the text. If you want all,
the Select All button is the easier way to go
. That's what I did here, and you can see the result.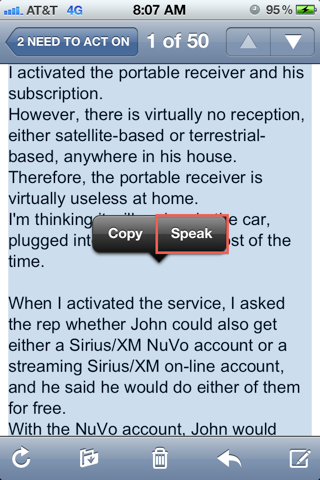 Tap the
Speak
button, then sit back and listen. Or pour yourself a bowl of Captain Crunch. Actually it works with any cereal.
I used Mail as an example here but
it works similarly with iBooks and Safari.
In every case it's tap, hold, drag the selection knobs (or do Select All where available), then "Speak."
Hey! Want more tips like this, delivered to your email inbox? Add your name and email to the mailing list and never miss a post.
There are a few shortcomings (you can't choose the voice, you can't do Select All in iBooks or Safari, and you can't trigger it from Siri), but even so, Speak Selection is worth exploring.
Up next: I'll show you how to do the same thing on your Mac.
If you liked this post, please share it with your friends using one of the buttons below. They will thank you and so will I.